Reducing Electric Meter Setup Cycle Time for Fort Worth Habitat for Humanity Homeowners
1 min read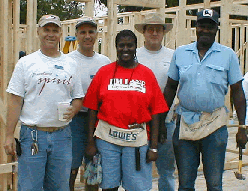 A Six Sigma project was conducted with the Fort Worth Habitat for Humanity (now called Trinity) to reduce the cycle time from Final Inspection to Permanent Electric Meter being set for new homeowners. The goal was to reduce the time from an average of 15 days down to 10 business days, to reduce the homeowners from being displaced or having their move-in delayed.
After comparing the inspection processes of two companies, they identified some improvement ideas for the company with the longest cycle time.
Give homeowners a reliable move-in date
Set up daily reminders for sending information to City the day of the inspection
Changed inspection information submission expectations
Establishing backup roles
HFH cannot pay for alternate arrangements
Include H4H on emails to the City to monitor progress
Higher rates of vandalism the longer a property sits empty
They also identified an improvement with the electric company to wait to submit the application until the final inspection is completed.
These improvements have resulted in achieving the goal of a consistent 10 day business cycle time.
Check out the project slide deck at https://6sigma.us/SixSigmaProjectExample/SixSigmaProject1.html